i-Clean system benchmarks jobs - and will price them for contractors and customers alike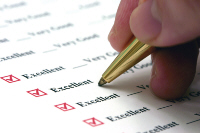 Clients using contract cleaning services can now assess the cost of cleaning their premises to a specified quality level, according to internationally-recognised guidelines, with the help of an added feature of the i-CleanTM Cleaning Management System.

Use of the optional Tender Management module can lead to improved and sustained cleaning contract quality, as well as helping to maintain health & safety and environmental standards.

"Contractors and customers, using performance benchmarking criteria, can also see where productivity improvements can be made through the development of more efficient methods of service delivery," comments i-Clean Systems Ltd's managing director, Mike Boxall. "the system benefits both parties by encouraging a transparent view of exactly what standards of cleanliness can be delivered for a specific budget." The module also provides help in the preparation of tender documentation and in the pre-selection and screening of potential contractors, and with contract implementation and ongoing monitoring.

Enquirers should telephone i-Clean Systems on 01684 580680, email sales@i-clean.info, or visit the company's website www.i-clean.info.