i-Clean supports 'The Shard' development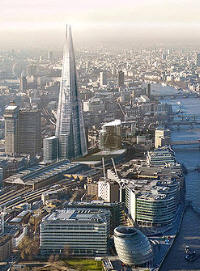 The operations team at i-Clean Systems are celebrating the award of its latest project to support the construction of 'The Shard' at London Bridge (find out more here) through contractor MACE. Designed by the celebrated architect Renzo Piano, and due for completion in 2012, the 72 floor glass tower will become Europe's tallest building, standing at over 1000ft high.

Developing working practices on prototype structures located in the Netherlands, the work will determine the safest and most efficient method of cleaning the 5,500 triple-glazed window sections. Managing Director Mike Boxall, commented 'aside from working on such a prestigious building, it's refreshing to work on a project where the final design and construction will be decided after the ability to clean it has been considered'

The Shard project will supplement other high profile i-Clean reference sites that include London's City Hall, P&O Estate's Adelphi Building and The RIBA building at Portland Place.